Litters due
Recent matings. Updated 8/4/19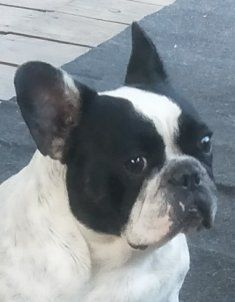 OUIOUI MADRIGAL (pied pictured left)
Pups born 7th Feb/19.
Sire. CH. OUIOUI BURNING DOWN THE HOUSE aka Arson
(brindle male pictured below)
Excellent sound lines
Puppies will be genetically clear of hereditary diseases that can be tested for.
Parents are small, solid and short in leg.
BRINDLE MALES AVAILABLE ONLY.
All our pups will be placed onto a limited register not for breeding.
2 or 3 vaccinations depending on age before they leave us.
6 weeks free pet insurance with Pet Plan.
A box of puppy products to assist settling your puppy into their new home. On pick up of puppy only.
We don't keep names or waiting lists so it will be necessary for you to
email regularly for puppy updates.
Don't do facebook sorry.
Jenni & Lem
thank you
Contact Details
Jenni Cameron & Lem Awdjew
Brisbane Valley-Brisbane, QLD, Australia
Email :
[email protected]