Puppies for sale
Going home with my baby.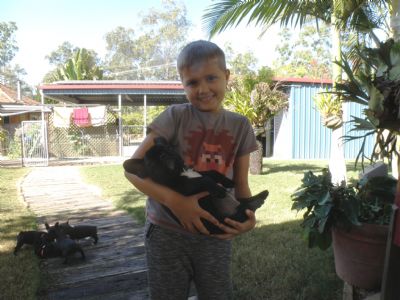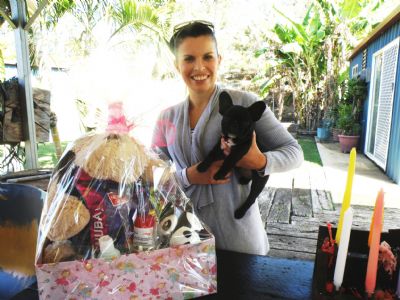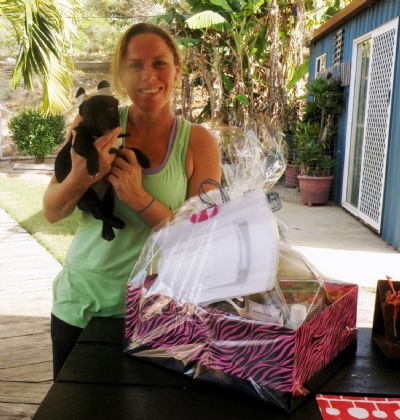 PUPPIES ARE SOLD ON A LIMITED PET REGISTER ONLY.
Lem and I will not contribute to the random breeding of frenchies by inexperienced people.
The breed deserves better.
UPDATE 19th March 2017.
Ouioui Ch Eyes On The Road Rhonda & Ouioui Madrigal have been mated. Awaiting confirmation that there are puppies on the way.
If you would like to make an appointment please email [email protected]
Our puppies are raised within our family group of frenchies of various ages. Very well socialised and confident before they leave us.
Plenty of sunshine and fresh air. Not raised indoors, only sleep indoors.
PRICE $5,500 Again not for breeding. Limited pet register only.
Small litter sizes are not uncommon for the breed and we no longer can breed and cover the costs involved without an increase in fees. The required health testing, breeding costs for the bitch, stud fees, whelping costs, housing, raising and vet bills all have to be met. Some people ask if de- sexing is included in the price.......NO.......we don't de sex babies at 12 weeks. I would recommend a girl to be done at 8 months and a male 11 to 12 months to enable them to grow with the hormones nature provided.
Note: that males can sire a litter at 9 months if they get the end right, so watch them.
Puppies remain with us until they're 12 weeks old. Unlike other breeds that are fine to leave home at 8 weeks of age, frenchies are too needy. The extra time with their litter mates is a must and we also use this time to make sure they're thriving along with 2 vaccinations and 2 health checks.
8 to 12 weeks is an important time for pups to learn socialisation with other dogs.They learn confidence, how to play with all the rough and tumble with litter mates and our adult dogs.
The most important thing they learn is dog body language. Hugely important.
Our puppy owners always say the same thing our pups slide into their new life, without a ripple.
View our past puppies in the "Photo Gallery".
We don't breed frenchies as an income, Lem and I work full time shift work to support our hobby and care for 12 frenchies of our own and the boarding frenchies. We sleep anytime we can put our heads down so can't be contacted by phone. Sorry.
Please do contact us for further information by email [email protected]
Regards,
Jen & Lem
Contact Details
Jenni Cameron & Lem Awdjew
Brisbane Valley-Brisbane, QLD, Australia
Email :
[email protected]