Jenni & Lem [email protected]

all the contents of this website are the strict copyright of ouioui french bulldogs
We are regularly in the process of updating and including new pages of information on our dogs and the boarders.
Greetings from Tasmania.
3 very spoilt frenchies from Susan & Stuart's family in Tasmania looking forward to winter.
L to R
Douggie, Louie and Stella Star.
That's 6 pups down there now from Ouioui kennels.
All doing really well with the best familes couldn't ask for more than that. Oreo is down there now from the last litter along with Scoobie and Roxy.
Is this why everybody is moving to Hobart?
Hasn't been cold enough out our way still days of 22C to 27C.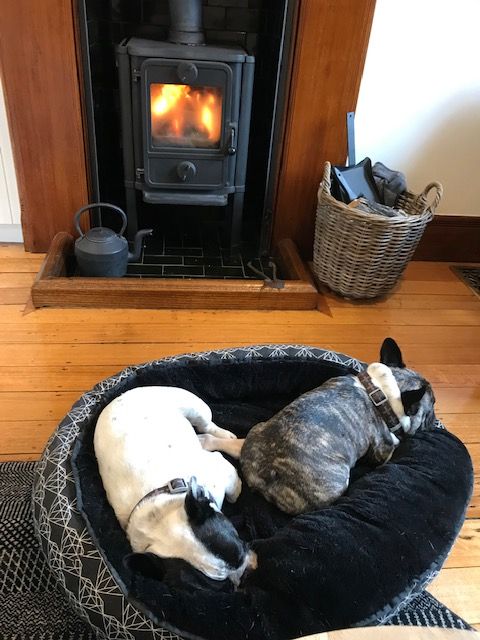 Nights have been great and no split systems on yet. Summer was discusting ran the air cons 24 hours a day from Nov to March in all buildings. Thank goodness for solar eh. Looking forward to some cold nights to get our fire place going. I wanted to put in a wood burner in the lower kennel and Lem said NO. We shut up the main house and move to the lower kennel every litter to raise the pups in the kennel. What's wrong with the comfy cosy treatment too. LOL. I usually don't listen to him, I can see the sense, we only breed once a year. We don't have enough litters a year to warrant the expense. I find the litters usually come in summer the worst possible time. Can't use the air con as the babies have to stay at 30C. Then you walk outside and it's 37C. Then 30C is looking pretty good. I watched the whole Viking series one after the other last summer as I couldn't leave the building had to watch babies.
Perfect winter weather here today and dogs can't complain.
Mine are out sunbaking Susan and loving it.
Thanks for the pics Louie is a clone of his mother Madrigal.
Douggie is a Rhonda clone and if he's anything like his mum loves his food. Rhonda spends the day looking and finding food. Pulls the oranges off the trees, passionfruit off the vines, cherry tomatoes gone in an instant and lately will eat raw pumpkin off the vines. I read that oranges cause depression in dogs. Well she shows no signs of slowing down. I don't know why I try to have a vegetable garden. The chook yard is the only place I can grow anything. 6 ft chain mesh fence to keep her out. Walking appetite. She's 6 so a few years more to put up with supermarket veg.
Jen
FACEBOOK SLANDER can be addressed if anyone wants to send me an email. We don't do facebook.
The court matter has been settled and there was no case to answer to. Every attempt (10 times) we asked to get the puppy returned to us, for a full refund and the owners refused. He would be alive in our yard if he had been returned. They put him to sleep. Once the goat poo was removed from his nose my cost of $5,000 he was fine for 12 days as per your email dated 5/12/18. That would indicate to me he was over his goat poo up the nose.
The next vet report from the same vets that removed the goat poo. Did a 2nd flush to confirm nothing up his nose.
They did say that a possible cause of the regurgitation (vet report 28/12/18) was an overdose of medication prescribed by another vet. Extremley high dose of meds (10 times over ) and also given another drug that causes tummy upset.
Now the pup is being treated for an upset tummy with a drug that causes an uspet tummy. Is it any wonder he was regurgitating.
The puppy had been in your care for 50 days before a vet told you to discontinue the varied diet of cat food, raw mince and treats. What was he fed on Christmas Day that had him back to the vet?
I nearly fell over when I read what you have been feeding him.
We didn't sight any vet reports from Nov18 and after, until, 8/4/19. They arrived by registered mail as you were taking us to court.
I sent the 1st email on 18/12/18 saying I have to think about it (as in what could be going on).
2nd email same day asking are you feeding the recommended diet and add some greek yoghurt into his food for the gut bacteria.
3rd email same day 18/12/18 I commence to ask for you to send the puppy home to us and then again on another 9 occasions.
The vet report has documented in your words "he seemed to get worst at night when the air con was turned off".
So the poor little guy was overdosed, fed fatty rich food, treats and yes there was also the toast and butter in there. Air con turned off. French Bulldogs need air con.Then, he snuck the food of other dogs as you didn't feed the dogs separately to again prevent him from eating the wrong food.
I feed our 10 dogs separately every day plus any boarders and you have 3 dogs is it?
We never saw any reports as mentioned until 8/4/19. We didn't sight them when all this was happening, didn't sight anything to even indicate to us that the pup had indeed been put to sleep even. No documents to say he had been put to sleep. The vet could have supplied that. I did ask if there had been an autopsy and you said "What".
Why wouldn't you send the vet reports through to the breeder?
Then I read the vet reports and your not too shiny.
Irritable Bowel Disease starts with an allergy to a specific protein in the diet. The regurgitation was perhaps his body trying to remove the dreadfull overdose of drugs and food from his stomach.
Enjoy loking at our webpage folks we have some lovely dogs and as you can see the premises is spotless.
Ohand another thing i have no idea who this other person is that said we gave them a mange and flea ridden young girl.
We have a flea free zone here and I don't give away dogs.
Contact Details
Jenni Cameron & Lem Awdjew
Brisbane Valley-Brisbane, QLD, Australia
Email :
[email protected]
123206 Visitors