Our buyers page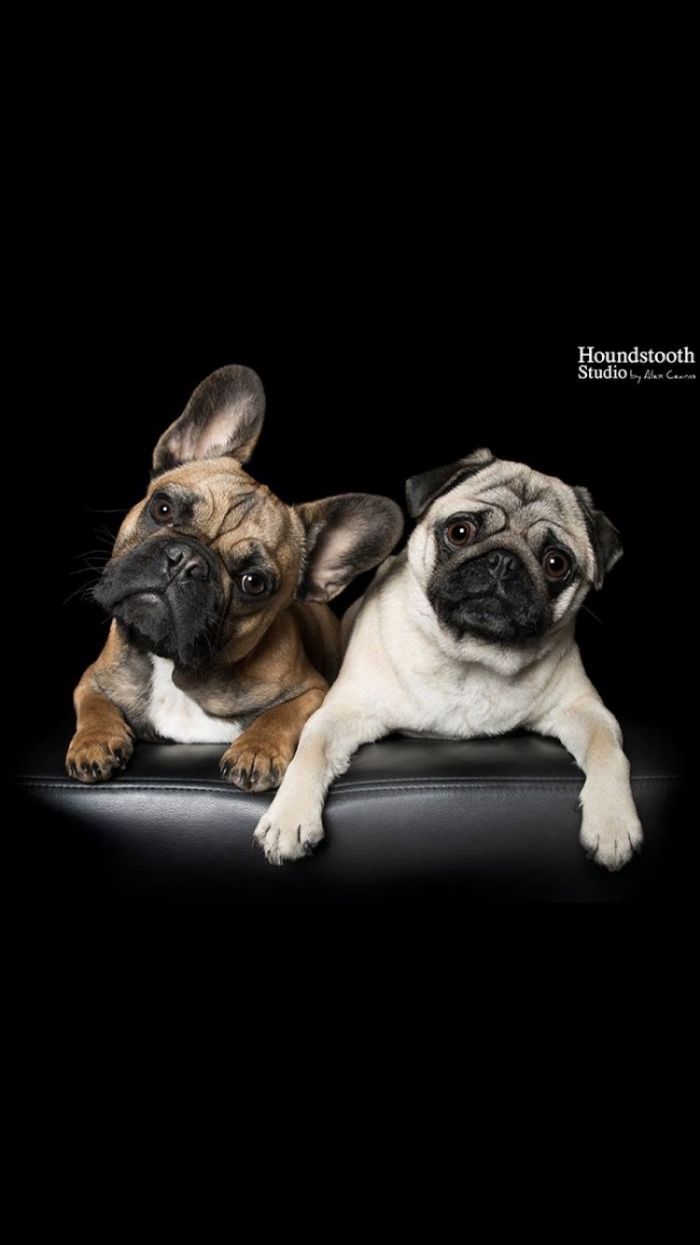 Hi Jen,
Thought I'd send you these pics of Nala the pug and Deebo your frenchie. A few pics of them with the photo shoot Deebo won for being so cute. I hope you guys are well
Sarah
He's outstanding Sarah WA, thanks for the update and all the photos. I like this one.
Below.Here's beautful Isaac with his lovely little girl owner. Priceless, love it, from NSW.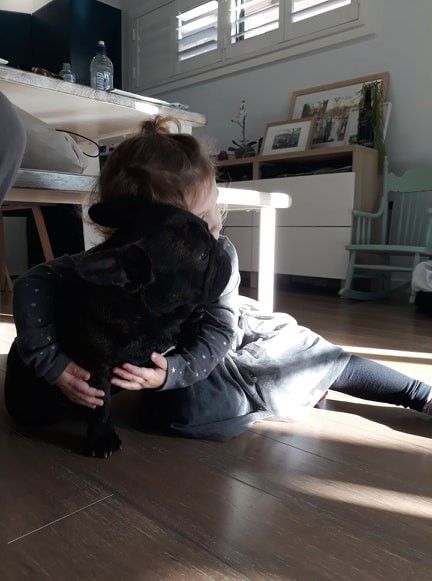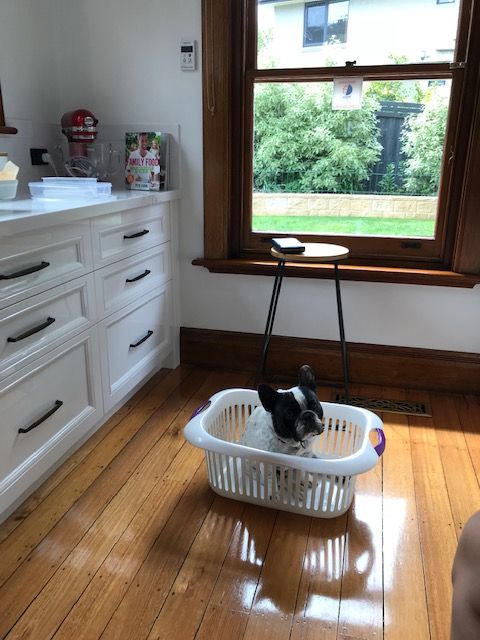 Left. Dill in a basket, all the reasons we love the frenchies.
Below. Hi Guys, Thanks again for everything over the past few months. Boris is settling in well, full of excitement with the new surroundings today however he's finally knocked out now ha ha. I've attached a photo. Cheers Don.
Thanks Don, you will be happy with this guy.
Left. Hi Jen,
It's Lisa, sending you some photos of our beautiful boy we were blessed with. Could not leave my other baby Peaches out so a photo of her.
Thanks again for our beautiful boy Mickey. Lisa Stowers
Hi Lem & Jen, Kenny is 3 yrs old May/19. Such a beautiful dog. Sleeps a lot. Loves people and children. He still watches TV and loves playing with his toys. Kenny loves a lot of attention.
We hope you are in good health.
Regards
Kris & Dennis
You have him in beautiful condition folks. Look forward to the next photo.
His neice Moulin Rouge a fawn is expecting her first litter soon.
Take care, Jen
Hi Jen, Well you were so right Maisy (right) is such a self assured little girl.
Nothing phases her at all.
She sleeps through the night beside our bed without a wimper.
Very, very very playful with our son. Cheers Monique.
Thanks for the update Monique, Maisy is a sweet heart. Just look at that face. Jen
Left. Ho Ho Manny at Christmas, waiting for his pressie no doubt.
Thanks for the photo Michelle.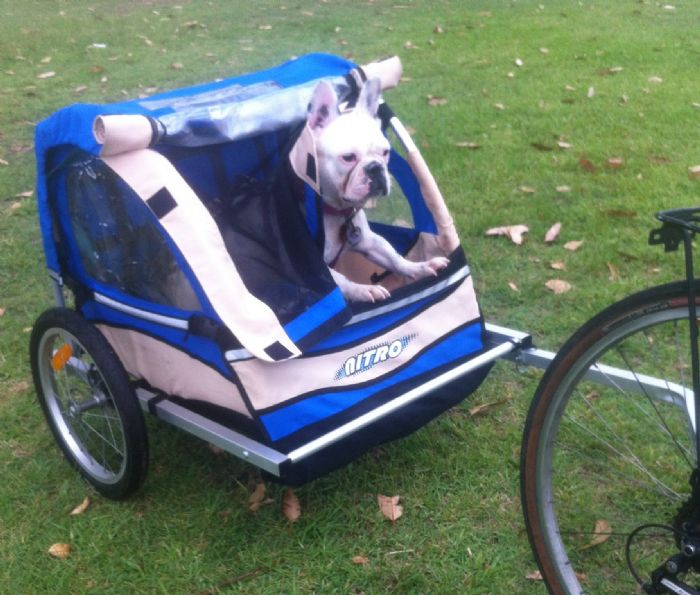 Dottie's chariot.
"We'll never catch that boxer if you don't pedal faster".
How funny. She's the special child.
Hi Jenni, thought I would share a pic. She's the most misceivious little thing I have ever come across. We love her to bits. Hope you are well.
Thanks Lisa
I must be selling the smart ones. None of my guys would pick up after themselves. Well done Campag.
Thanks for the photo Jacqui and glad to hear you are happy with your girl. Jen.
Brutus pic right at 6mths. Son of Arson and Madrigal.
Hi Jenni, Brutus has settled into our lives and a much loved member of the family despite, some toileting issues. We are so happy to have the perfect french bulldog (as my son says all the time). You would be so proud of him. More power to you and I can see your latest litter are looking so adorable. Kind regards Ria and Gauguin.
Hi Ria, Yes some frenchies can be a handful when toilet training.
We use the flap door. Highly recommend the flap door.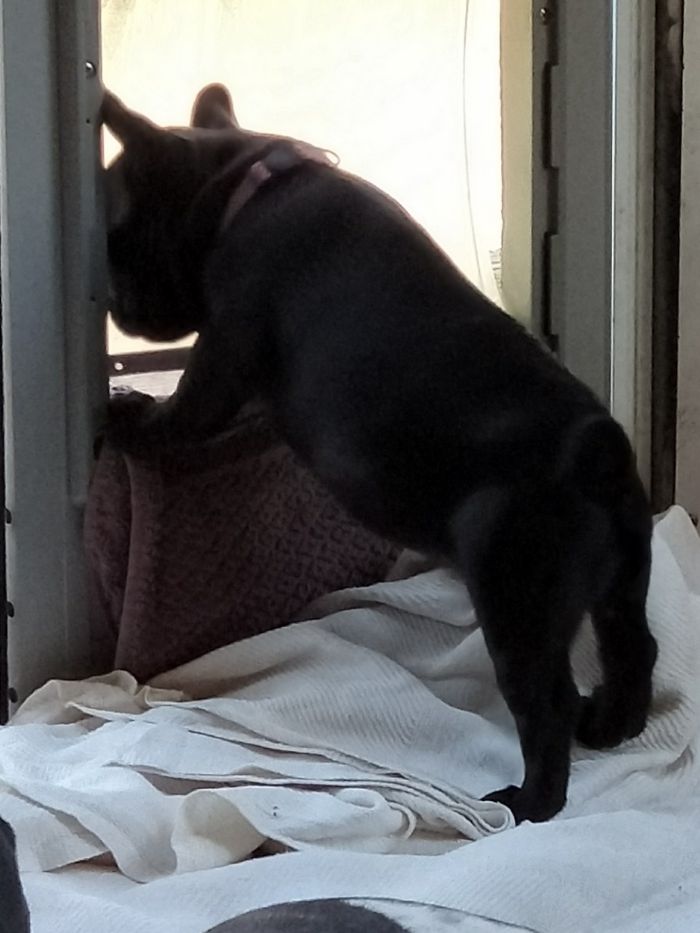 Here is our Raven (left) at the flap door. Aged 6 wks. She was such a natural she taught everyone else how to use the door. It's a full height panel that slots into the door track, then you close the glass or screen door. You can still slide the main door to get in and out yourselves. You can lift the panel out when you need to lock the house up. Ours remains in place. Made my life so much easier.
Brilliant. I used to have to leave the door part open, so it saves the split system cool air and heat escaping from an open kennel door. Saving on power. No bugs and crawlies coming into the kennel also.
For little legs, just roll up some towels and such to give them a leg up. On the outside I have piled up some pavers to assist the babies. Gosh it saves a lot of work. The puppies turn it into a game following each other in and out.
I purchased mine off the Qld French Bulldog page link. I have seen the Wacol RSPCA store sells the panel also at $330 or $360?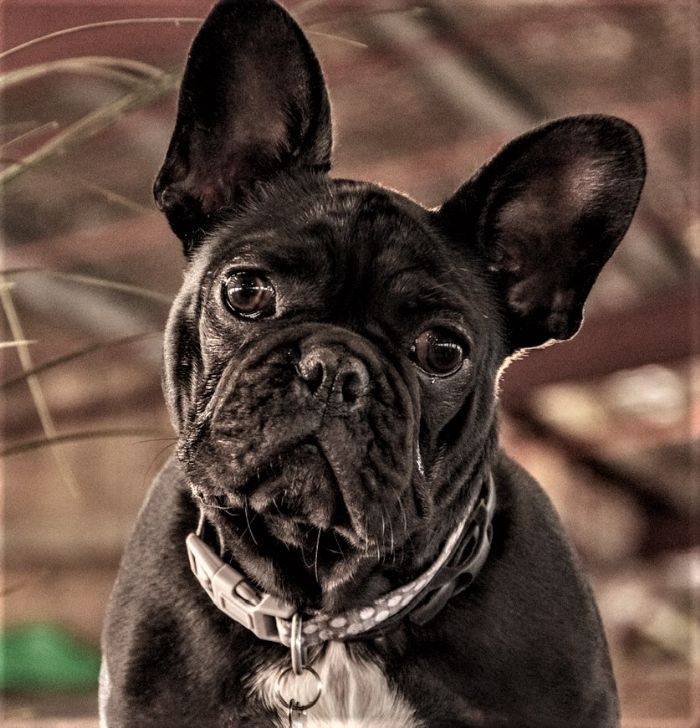 What big nostrils you have an Arson son.
I wonder how your bro Oreo is going in Tassie.
Contact Details
Jenni Cameron
Brisbane Valley-Brisbane, QLD, Australia
Email :
[email protected]